The Austrian pharmaceutical firm, AOP Orphan Pharmaceuticals AG, Vienna, is providing funding for the completion of T cell lymphoma/leukemia phase I/II clinical trials. Trials are currently underway at Scott & White Healthcare Cancer Research Institute, Yale University School of Medicine, and are enrolling new participants.
Trial Description: A Phase I/II study of A-dmDT390-bisFv (UCHT1) (Resimmune™) Fusion Protein in Patients with Cutaneous T-Cell Lymphoma
This Phase I/II clinical trial is designed to treat patients with T-cell lymphomas and leukemias (T-cell blood cancers) such as Cutaneous T-Cell Lymphoma (CTCL). The drug Resimmune™ consists of a toxin, called diphtheria toxin, which is attached to an antibody that can specifically target cancerous T-cells.
The Phase II portion of the trial objectives are to determine the preliminary efficacy the drug Resimmune. Toxicities associated with the drug are also recorded. The safety and efficacy of the drug Resimmune has not been established. A major exclusion to entering the trial is a past history of heart disease.
Patients will receive full supportive care during the course of the study. Participation in the study will require a 5-day stay in the hospital, as well as frequent outpatient blood draws for the first 30 days. Patients with partial or complete remissions at their 1 month follow up visit will have another follow-up visit on day 60, then every three months for 1 year, followed by annual visits to assess duration of the response.
Identification of a Cutaneous T-Cell Lymphoma (CTCL) Subgroup Experiencing a High Treatment Response Rate
An analysis based on the Clinical Response Data in October, 2012 at the completion of the Phase I dose escalation portion of the Resimmune clinical trial showed that there were 15 evaluable patients who received all 8 doses of Resimmune varying between 2.5 and 11.25 ųg/kg per dose. There were responses at all the lower dose levels. The overall response rate was 40% and the complete response rate was 27%. If we exclude patients who have mSWAT scores over 50 (50% of skin surface area times a multiplier) and who do not have lymph node involvement or stage III disease we are left with 6 patients. This subgroup has a response rate of 100% and a complete response rate of 67%, two of which are over 36 and 42 months duration and may represent cures. There are advantages to treating patients in this subgroup of stage IB and IIB disease. First, the trade off between efficacy and safety is maximized in this subgroup compared to the larger population of all CTCL patients. Second, patients achieving long-term complete remissions experience benefits from freedom of unsightly painful skin lesions and out of pocket costs for expensive alternate systemic medications that can amount to $25,000 to $100,000 per year. Therefor we propose to focus on enrolling future patients in the Phase II portion of the trial who have characteristics of the high treatment response rate. This will provide additional safety and efficacy data at the established maximum tolerable treatment dose of 7.5 ųg/kg per dose.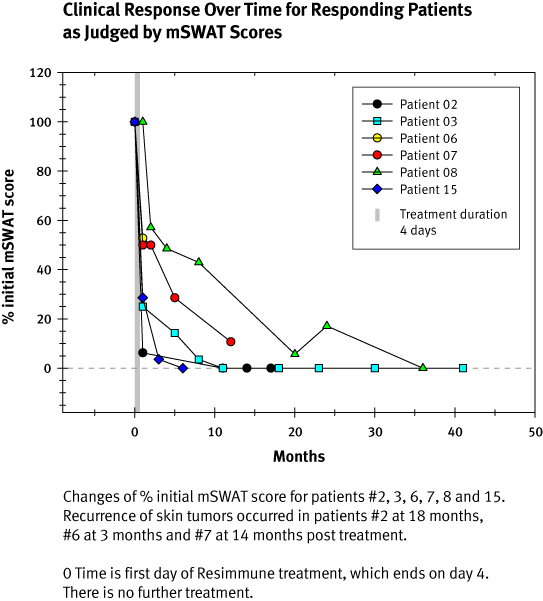 Participate in Trials
New patients are being enrolled in the trials above. Please use the contact information and links provided to the right for contacting these centers directly.
Travel & Lodging Defrayment
Angimmune will partially defray travel & lodging costs for a family member to accompany a patient to this trial. Please contact the appropriate Clinical Research Coordinator at the trial site for more information.
Trial Sites:
---
Yale University School of Medicine
Principal Investigator:
Francine Foss, MD
(203) 737-5312
Contact: Diana Irizarry, RN
(203) 737-2451
diana.irizarry@yale.edu
Angimmune will partially defray travel costs to this trial site for out-of-town patients.
---
---
Scott & White Healthcare Cancer Research Institute
Principal Investigator: Arthur Frankel M.D.
Clinical Research Coordinator Margarite Grable, CCRP
254-724-0292
mgrable@swmail.sw.org
Study description and clinical trial contact information:
Scott & White Trial Information
Angimmune will partially defray travel costs to this trial site for out-of-town patients.
---
---
New Clinical Trial Sites
Additional clinical trail sites are in the process of being evaluated and accepted. This page will be updated when those sites are approved and accepting patients.

Updated 01/09/2013


---